K-9: Marvin's trusty companion and Commander on the Martian Maggot. He can be relied on to signal danger by pointing at it. Perhaps he descends from a species of alien pointer dogs, rather like the breed found on Earth?


Bugs Bunny: The Earthling that Marvin and K-9 can never quite seem to trick. He has been the target of many a Martian kidnapping including for reason of being a companion to Marvin's pet Hugo the Abominable Snowman. So far Bugs has kept the Earth safe from Ka-Boom! for now...
Duck Dodgers & Porky Pig: They are the nemeses of Marvin and K-9. Their initial argument originated over claims to the Illudium Phosdex source on Planet X. Things have never been the same since...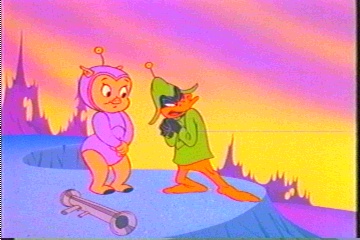 Hugo the Abonimable Snowman:
Kidnapped by Marvin from the Himalayas, he became very lonely on Mars. Marvin decided to then kidnap Bugs Bunny for a companion to Hugo. Needless to say, it didn't work out!